MODERN MOROCCAN MASTERPIECES
From the most brilliant lighting designer of Marrakech, these are collector pieces that will become even more treasured over time.
All the pieces on these pages are from the same studio, many are signed with the makers distinctive signature, "Y".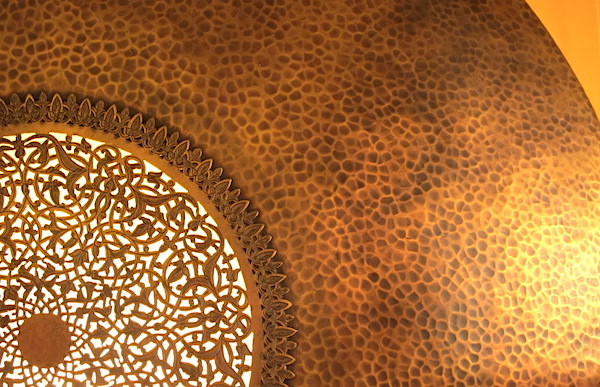 ANTIQUE BRASS WALL SCONCE with FABULOUS CENTRE CARVING
Beautiful and unusual, these impressive sconces complement a richly antiqued brass, hand hammered finish with an intricately carved centre. The craftsmanship in the carving of these pieces is magnificent.




CHERUG SHEILD SCONCE - 80

Beautiful in its own right, this sconce makes a powerful statement even when not illuminated.

But when a simple electrical fixture
is positioned behind the central carving,
a lovely halo of light is created and the
sconce becomes a high impact
lighting feature.

The photo at the top of the page shows a close up of the carving at the centre of the 80 centimetre sconce, all of this intricate metal carving is done by hand.

Size: 80 cms
Price:$725
CHERUG SHEILD SCONCE - 50

A smaller, 50 centimetre diameter, version
of the sconce above. Here the centre
carving is slightly less elaborate,
but still very beautiful

Behind the central carving on all sconces
a disc of heatproof, translucent material
has been inserted, this avoids the
distraction of direct light,
in other words, a visual "hot spot".






CHERUG SHEILD SCONCE - 50

Here's an overall view of the smaller sconce.

The hand hammered metal of the main body has been "antiqued" to soften the burnished appearance of the heavy, solid brass.

Other than dusting, the sconces need no ongoing maintenance.

Size: 50 cms
Price:$425
SMOOTH DEMIBOULE WALL SCONCE

Another beautiful fixture made of the same heavy, hand hammered, aged brass as the Cherug Sconces. Here, the sconce is shaped into a half bowl and finished with a
diminishing series of half spheres.

The sconce can be positioned to direct the light as required.

Size: 48x25x46 cms
Price:$495