TURKISH MOSAIC LAMPS - Page 1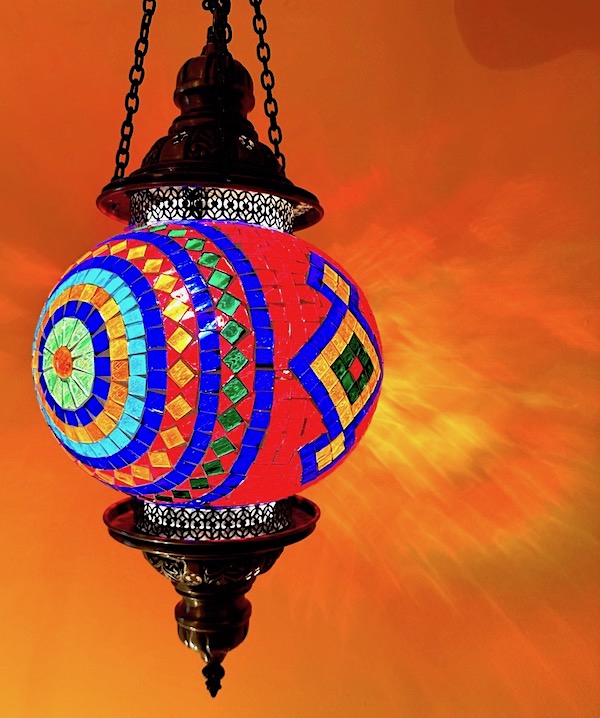 TURKISH GLASS MOSAIC LAMPS
Lamps like all the designs on this and the next page are becoming more difficult to find in Istanbul these days. If you look around the Grand Bazaar you'll see lots of the glass bead style, which are cheaper to manufacture, but very few, if any of the true glass mosaics.
All the lamps we offer are constructed of a glass globe, or flute onto which tiny squares of jewel coloured glass are attached.
SMALL BYZANTINE MOSAIC LAMP
Circles and diamond shapes decorate this lantern shown above.
Easily electrified and when lit the colours create the most wonderful kaleidoscopic
effects on the ceiling and walls.
Also available in a predominantly orange version.
Size: 54 cms high, 26 cms wide

Price: $ 695 CDN



LARGE BYZANTINE MOSAIC LAMP

Zig zag geometrics decorate this lantern, with a warm combination of amber and red glass mosaic tiles, separated by borders of green and cobalt.

Also available in a predominantly red version.


Easily electrified and suitable for a high entranceway.

Size: 63 cms high, 30 cms wide
Price: $ 875 CDN
THE CAPPADOCIA LANTERN

With an unusual, sinuous shape, this is a very charming lantern. The mosaic glass centre is attached to an embossed rim of aged brass, and completed with matching brass trim and finial.

Click on the photo to see the orange/red version..

Size: 47 cms high, 23 cms wide
Price: $ 525 CDN






THE PERA LANTERN

There's something distinctly "Arts & Crafts" about this lantern!

Four triangular mosaic panels form an inverted pyramid, which terminates in a brass finial. A band of decorative swirled brass trim finishes the open top of the lantern.

Size: 38 cms high, 27 cms wide
Price: $ 495 CDN
LA TURQUA LANTERN

Slim and cylindrical with a decorative brass top and base.

Size: 42 cms high, 15 cms wide
Price: $ 295 CDN