VINTAGE TURKISH LAMPS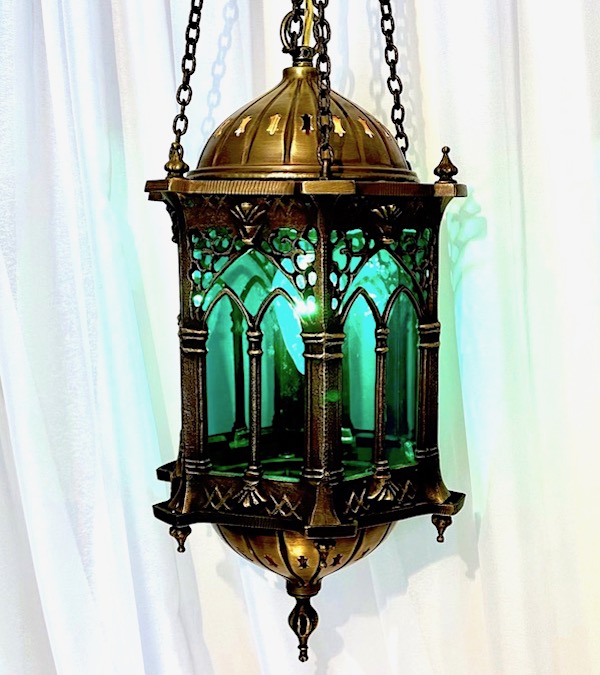 OLD CITY TURKISH LAMPS
Heavy, antiqued, cast brass, very difficult to find anywhere in Istanbul these days

because they're too expensive to manufacture.

All lamps in this series are the same cast brass material in the same size and six sided shape.
GOTHIC WINDOW OLD CITY LAMP
Photo above shows the Gothic window design with clear green glass, I also have
this lamp in clear blue glass.
Approximate size:height 35 cms, width 16 cms

Price: $ 725 CDN



OLD CITY LAMP- AMBER


Six matching panels in this lamp in a combination of amber and turquoise mosaics. The cross in the centre of each panel is actually red with a turquoise centre.

Approximate size:height 35 cms, width 16 cms

Price: $ 725 CDN
OLD CITY LAMP - TURQUOISE

Turquoise and dark blue mosaics with a
small triangle in red.

Each panel features an "eye" in amber
and red.



Approximate size:height 35 cms,
width 16 cms

Price: $ 725 CDN






OLD CITY LAMP - GREEN/BLUE


Same pattern as the amber lamp above,but here the colour
combination is green and blue with a touch of turquoise.

At the centre of each panel is an amber four pointed star with red centre.

Approximate size:height 35 cms, width 16 cms

Price: $ 725 CDN
OLD CITY LAMP - BLUE/RED

Blue, red and turquoise mosaics form
a pattern surrounding a golden
and turquoise centre.

Approximate size:height 35 cms, width 16 cms

Price: $ 725 CDN