HAMMAM WARE from TURKEY and MOROCCO- Page 1
TURKISH HAMMAM BOWLS, MOROCCAN HAMMAM BUCKETS
Our hammam bowls and buckets make an attractive addition to any bathroom, providing decorative containers to display towels, special soaps or to keep track of beauty products.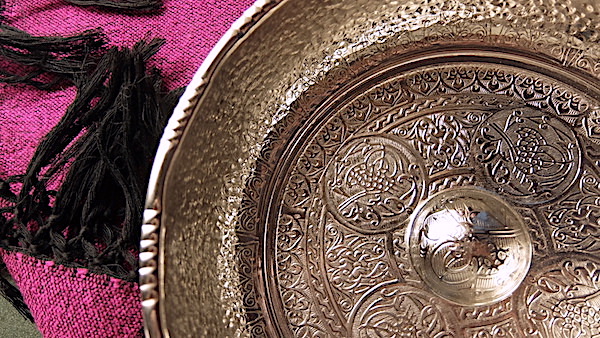 SILVER TURKISH HAMMAM BOWL
The detail in the decorations on this bowl makes a pretty combination with the gleaming silver metal. Choose a colour to match, or perhaps complement the finish of your bathroom fittings.
Click on the photo for an overall view of the silver hammam bowl.

Size: 20 x 5cms Price - $55 CDN

COPPER TURKISH HAMMAM BOWL

Here we have the warm radiance of copper.

Click on the photo for close up of the pattern.

Size:20 x 5 cms
Price - $55 CDN




MOROCCAN VINTAGE HAMMAM BUCKETS

All of our hammam buckets are brass
and most are of a similar size. In times past they were used to carry towels and soap
to the local hammam, as many homes in the medina did not have bathing facilities.

Hammams are still very much in business, but the brass buckets have been replaced
by plastic.

Providing you use a waterproof liner,
these hammam buckets look great with a
floral arrangement or leafy plant.

Size: 25 x 25 cms
Price: $195 CDN



VINTAGE BRASS HAMMAM BUCKETS

The hammam buckets have three little
feet and the triangular plate that anchors the handle to the rim is of copper which contrasts pleasantly with the brass. Some show
signs of use, but it's all part of their charm.

Other designs are available, usually with floral themes.


Size :25 x 25 cms Price: $195 CDN