HAMMAM WARE from TURKEY and MOROCCO- Page 2
MOROCCAN HAMMAM BUCKETS & PERFUME FLASKS
All of our vintage hammam buckets are brass and most are of a similar size. They have all led long and useful lives carrying soaps, loofah and towels to the local hammam, before the advent of plastic replacements edged them out of daily use.
Now, they find appreciative homes in modern bathrooms, convenient for storing hand towels, facecloths or bath oils.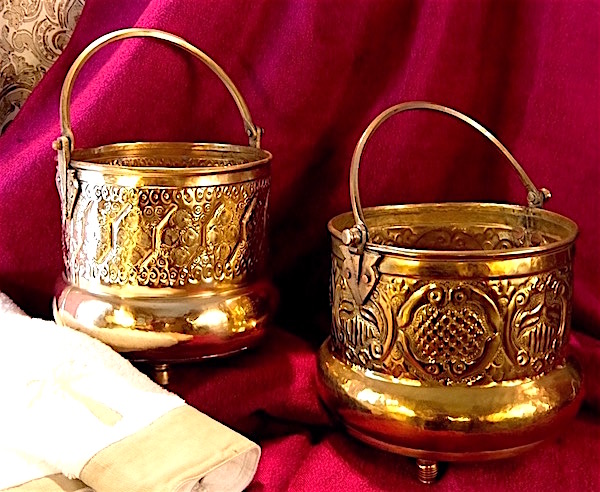 VINTAGE BRASS HAMMAM BUCKETS
Our hammam buckets have three little feet and are variously decorated, but usually with a floral theme. Some have the odd dent or a foot slightly out of true, it's all part of their charm. The triangular plate that anchors the handle to the rim is often made of copper which contrasts pleasantly with the brass.

Size :25 x 25 cms Price: $195 CDN




PEONIES IN HAMMAM BUCKET

Providing you use a waterproof liner,
hammam buckets look great with a
floral arrangement or leafy plant.

Size: 25 x 25 cms
Price: $195 CDN
SILVER & GLASS PERFUME FLASKS

This is a miracle of recycling!
Enterprising Moroccan artists take
clean, empty perfume bottles, and coat
the inside with colour.
"Antiqued, decorative strips of
silver metal are then worked
into elegant frames to enclose the bottle.
A small tassel provides the finishing
flourish.

A lovely addition to a bathroom or spa.

A selection of colours and shapes available



Approximate size:
30 cms high x 10 cms wide


Price - $75 CDN



VINTAGE SILVER PERFUME DISPENSER

These were the containers that were used
to sprinkle guests with rose or orange
flower water as they departed.

I'm not sure if the tradition continues,
but these days, the little silver vessels
catch the light attractively in a bathroom
or on a display shelf.

Size: 25 cms high x 8 cms wide


Price - $65 CDN