MOROCCAN VINTAGE - Page 4
SILVER and BRASS SERVING TRAYS
A small selection of our many vintage trays appears on this page. Almost all are around 60 to 70 years old and have come from homes in the Middle and High Atlas where they would have been a prized possession.
Some of the trays show signs of wear, a witness to the decades over which they have earned their place at innumerable family celebrations, and to the lavish care with which they have been maintained.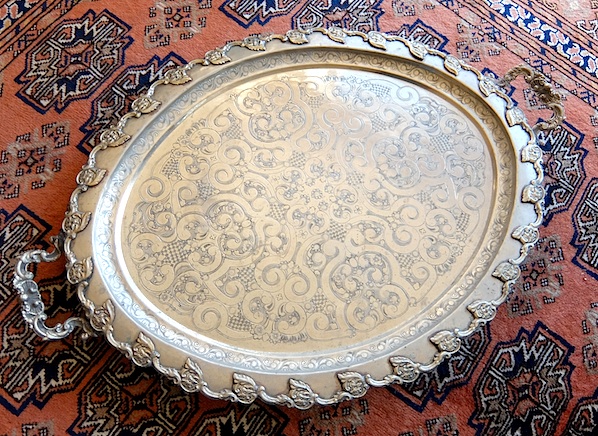 LARGE OVAL TRAY with SWIRLS and FLORALS
Loops and swirls of pattern are interspersed with floral bouquets and scatterings of tiny daisies on this gorgeous tray. The tray weighs around 15 lbs and has sockets for attaching the traditional, short, metal legs.
Click on the photo for a closer view of the craftsmanship.

Size:52x52 cms Price - $475 CDN

GEOMETRICS

A large silver metal tray covered with a classic Moroccan pattern of interwoven geometrics.
Click on the photo to see the whole tray.

Size: cms
Price: $425 CDN



CUPOLA and FLAGS TRAY

I love finding trays with this type of lacy cutwork around the edge. It sets off the centre pattern so well, and the pattern here is something special. Two five-pointed figures are offset and superimposed on each other. The ends of the most visible shape is capped with a curvaceous cupola and flanked by billowing flags carrying the five pointed Moroccan star.

Click on the photo for a closer view.

Size:52x52 cms Price - $375 CDN



TEN SIDED TRAY

Here a simpler pattern of cutwork inside a striped rim encloses a centre pattern of scrolls and flowers with areas of decorative cross hatching

Click on the photo to see a detail view.

Size: 48x48 cms
Price: $375 CDN



SMOOTH BORDERED BRASS TRAY

This tray has been so well polished over the years that the underlying silver metal shows through in some areas.

The brass is a pale blonde with leaf, circlets and star motifs. Click on the photo to see the whole tray

Size: 48x48 cms Price: $225