VINTAGE TOUAREG REED MATS
These mats were made in the early part of the twentieth century by the Touareg women of Mauritania. They are constructed from trimmed straw or reeds woven with very fine strips of camel leather. The geometric motifs run in repeating, symmetrical bands along the length of the mats.
Originally used in the leather tents of nomadic Touareg tribes, the mats helped protect from the elements, subdivided areas within the tents, and functioned as floor coverings.
The mats are beautiful and show clear signs of age, and occasionally small areas of damage. They are mainly of interest to collectors and specialists.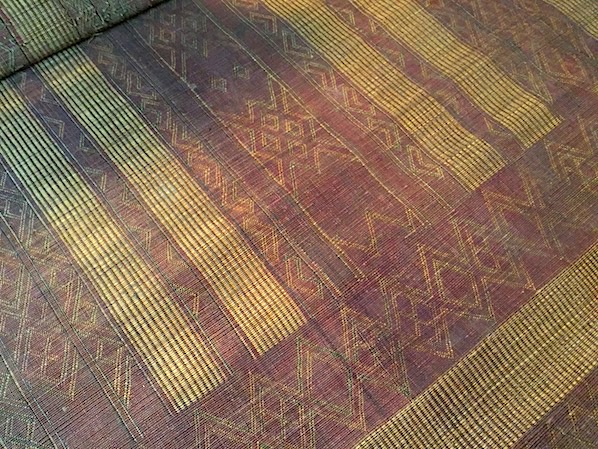 VINTAGE TOUAREG REED and LEATHER MAT
Very old, large carpet, intricately woven with geometric designs. The natural, golden colour of the reeds contrasts with the thin, darker strips of leather which have been coloured with natural dye, probably of mineral origin.

Size: 100x78 inches

LARGE FRINGED TOUAREG REED and LEATHER MAT

The geometric patterns woven into these mats might have a tribal significance. Although the different mats show similar designs, the variations become apparent on closer scrutiny.

This mat is older, larger and considerably heavier than the mat at the top of the page.

It is finished with a fringe of green dyed leather strips, just visible at the top of the photo.


Size: 135x102 inches











DETAIL OF WEAVING

The skill of the weaver can be better appreciated here. Click on the photo for an enlarged image.

Originally the patterns in this mat would have been more vibrant, they must have been glorious when new!

Here the diamond shaped tracing of faded green leather is just visible. In other areas, the plum coloured leather strips have darkened over time

SMALLER REED MAT

Much smaller, but equally vintage, this mat shows some signs of wear. Areas along the edge of the mat have been mended and reinforced with leather.

Click on the photo for a detail of the weave.

Size: 61x42 inches

SOLD